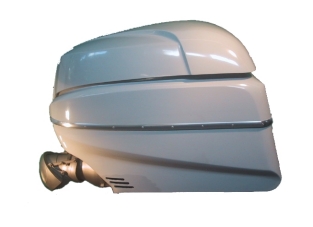 JetPac™ Outboard Jet Propulsion System. JetPac™ is a completely self-contained outboard mounted marine jet propulsion system. It has a large diameter water jet completely enclosed within positive buoyancy, fibreglass shell, that offers high thrust, quieter and more efficient performance than current jet propulsion systems
JetPac™ Outboard Jet Propulsion System is an innovation in marine propulsion; a patented technology that is clearly unconventional yet offers significant improvements over existing water jet designs.
The JetPac™ marine propulsion system provides the best combination of

Safety

,

Reliability

and

Performance

available. The JetPac™ uses clean

engine

technology

, both diesel and petrol, to power its patented

water jet

drive system. Its low emissions, low noise, low fuel consumption and

low draft are just some of the

advantages

that make the JetPac™ outboard the best choice for consumers and the environment.
Jetpac Powers Zodiac Military & Professional RIBS

"I have tried the JetPac on 2 different boats so far and on each I was impressed with the ease in which the boat got out of the hole even with heavy loads. The directional manoeuvrability is outstanding for a water jet even at low speeds and of course the bonus is the whole power train is outboard."

Tim Fleming

Zodiac Military and Professional Marine Sector
JetPac™ - A low weight positive buoyant Fibreglass shell
The Fibreglass Shell is specially fabricated to house both the engine and water jet. The shell is designed with over 1,000 pounds (450 kilograms) of displacement and other features, such as:-
Baffled air intake system to reduce noise, trap and eliminate any water
Separate bilge area to contain oil and other engine contaminants
Engine mounting high above the bilge areas
Easy mounting to transom of boat

Water jet installs as a cartridge
Low draft, does not extend below the boat's keel
JetPac™ - Improved acceleration and reduced fuel consumption
The Water jet is designed for safety, reliability, performance and durability.
316 stainless steel construction

Sealed shaft housing

Sealed grease packed bearings

Entire jet assembly is removable as a cartridge

Large diameter jet for high thrust and quick acceleration

Designed to allow reverse to be used as a braking system.
Engines currently offered in the JetPac™ are:
Diesel
3.0 litre common rail electronically controlled 4 stroke diesel. This engine is turbo charged and intercooled, it has a modified water jacketed stainless steel exhaust manifold, a closed loop cooling system with a stainless steel/cupro nickel heat exchanger and intercooler, and develops 225 horsepower at 3,800 rpm.